Super Bowl Week Players
This week we joined in some Super Bowl fun with Tail Gate Tuesday pizza party, game day, our football puppy pad and more. Pee Wee day had to be called on account of weather conditions but we rescheduled it to Feb 9th.
The Doggy Pizza was a hit! Everyone that does not have diet restrictions had a small bite size slice to try. A couple pups were not interested but everyone else chomped down and begged for more!  This recipe is close to the one we used except I cut the dough into 6 inch mini pizza shapes then once baked cut into small pizza slices.
 All of the pizza pictures our located on our facebook page and will soon be loaded to the main website.
Friday was game day and even though we did have some playtime outside in the snow, inside where it was warm we played FOOTBALL!
Callie heads for a touchdown!
In the Romper Room Callie and Cooper went paw to paw with Kona and Millie. Nobody steals the ball like Kona and she is very hard to catch once she has the ball! In the Toybox it was a tough game but Bill was the highest scoring player and impressed us all with his celebratory dance moves!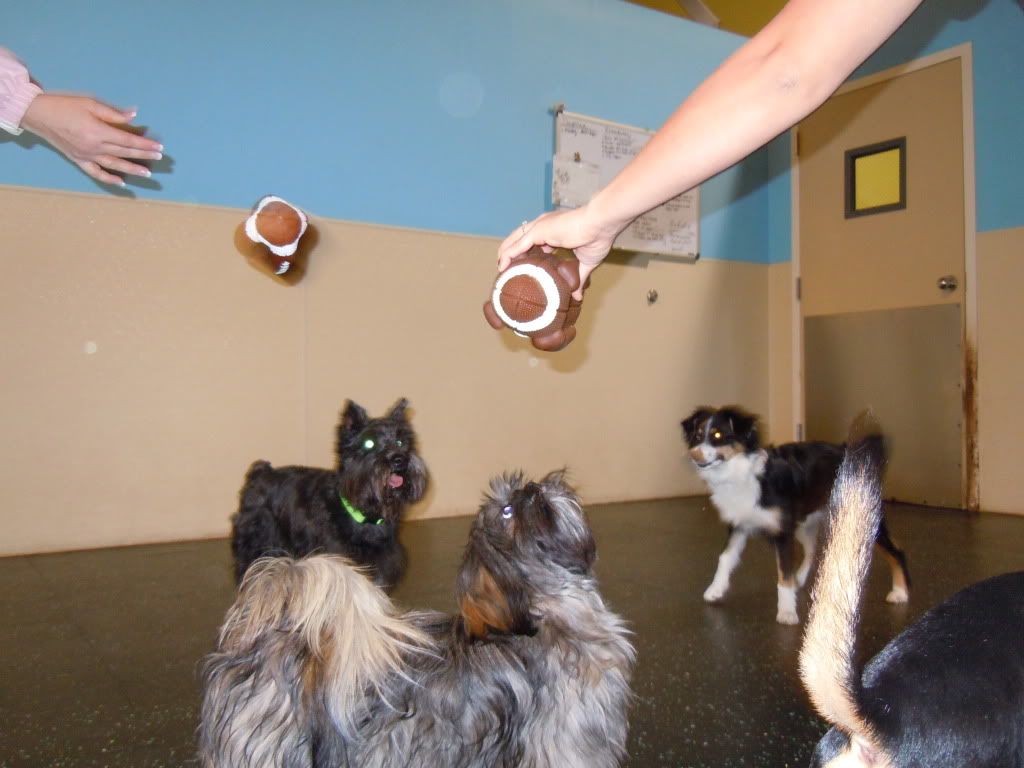 This week our Pack Leaders got together and voted for our top players in each room.  In the Romper Room Kona Malone was voted our Most Valuable Player! This sweet Rottie girl is a regular at Dogtopia Waco that loves to romp with best friends Cheyenne and Bella. Many of you have probably met her in our lobby before, she loves to greet everyone with a wiggle and by leaning on you so that you may pet her.  To see a video of her playing football click
here
. The rest of our Big Dog players were voted as:
MVP  Kona
Waterboy-Damon
Coach-Parker
Cheerleader (tie) Maya and Callie
Wide Receiver- Dieter
Center-Grady
Quarter Back-Bailey
Referee-Sugar
Assistant Coach-Holly
Running back- Dexter
Our Toybox Most Valuable Player is Missy! Missy is in our Toyboxpractically every day come rain, sleet, snow, or hail! With boundless energy she zooms around the lobby to greet everyone before racing back to the playroom where she barks, chases, and wrestles with her friends. Missy plays with everyone but if Casey Jo or LuLu are in the room you can bet she will be playing with them. The rest of our Little Guys are:
Waterboy-Wilfred
Coach-Casey Jo
Cheerleader-Bella Anderson
Wide Receiver- Addy
Center-Gator
Quarter Back-Sophie D
Referee-Penny C
Assistant Coach- Ava & Nelson
Running back- Bella J
Sophie scores!
Thanks everyone for playing with us this week! Don't forget to keep tabs on Facebook during the big game. We will be announcing the winners of our Football Puppy Pot at the end of each quarter! We have some YUMMY prizes and even a free day of daycare to give away!
Tags: dog daycare, doggy pizza, dogs super bowl, Dogtopia Waco, waco dog boarding, Waco Dog Events