Wednesday, November 26th, 2008
… but this will be the 7th Thanksgiving at Dogtopia of Tyson's Corner!
One of things we have always been thankful for is the unflappable loyalty of our clients. This is especially true this year when we've seen such unpredictability in the economy. We're still going strong and will have a full house of four-legged players for Thanksgiving!
Earlier this year we established an honor we dubbed "Founding Fidos". As we approached our 6th birthday we wanted to give some special recognition to those clients who had been with us from the beginning and were absolutely vital in the success of the business.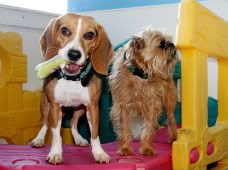 Pouring through our evaluation logs from several years ago was an awesome stroll down memory lane. We smiled and shared "Remember when?" stories about dogs we still see bounding into our lobby each week – like Remy, Bree and Rocky. We couldn't help, but cry at the memories of wonderful dogs we'd lost over the years like our sweetheart Maggie and our loveable Lab Taz.
The relationships we've built in 6 1/2 years with the dogs and their parents are simply priceless. We love seeing the enthusiastic wagging tails in the morning as they pull Mom or Dad through the door. Having a particularly cute story about your dog's new girlfriend or how they took a swim in the water bowls is always a treat.
The fact that our top source of new clients is referral from current ones is a compliment we do not overlook. Talk about having something to be thankful for.
Have a wonderful Thanksgiving!